Paxton & Whitfield - The Piccadilly Hamper
Regular price

£100.00
Sale price
Pickup currently unavailable
Share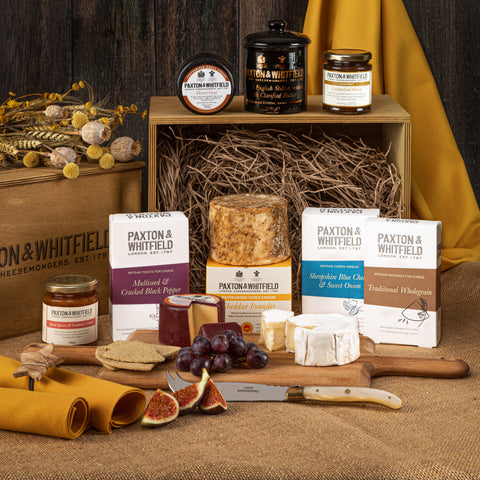 The best-seller "Piccadilly hamper" contains a selection of our house range cheeses, accompanied by a sumptious collection of accompanying preserves, biscuits and sweet treats. Presented in a traditional wooden hamper box for the perfect gift.

Your "Piccadilly Hamper Contains:
Paxton & Whitfield Cheddar Pounder PDO 225g: Paxton's Cave Aged Cheddar Pounder is distinctively fruity and has a nutty bite. It has underlying earthy notes absorbed from its maturation period in Somerset caves, and a very dense consistency that is satisfying in the mouth. It's a staple for every cheeseboard.
Paxton & Whitfield Stilton Jar 250g: Our iconic Stilton jars are a perfect gift for cheese lovers. Our award-winning Stilton is hand-crumbled into these collectable jars, and covered with clarified butter which melts into the Stilton when serving.  
Paxton & Whitfield Smoked Ceodre 200g: A wax coated farmhouse Cheddar naturally smoked over oak chips, giving a smoky flavour and creamy texture.
Paxton & Whitfield Dorset Goat 200g: A hard goats' milk cheese with a mellow and slightly sweet flavour and a smooth, firm texture.
Paxton & Whitfield Celtic Soft 200g: The cheese has distinct hints of mushroom coming from its white rind, and a full, buttery flavour which leaves a long aftertaste.
Paxton & Whitfield Traditional Wholegrain Oatcakes 200g: From our tempting range of biscuits and crackers, these delicious Oaties with a golden, open texture and characteristic nutty taste. Handmade with locally sourced rolled oats from County Armagh.
Paxton & Whitfield Multiseed and Cracked Black Pepper Artisan Toasts for Cheese 100g: Deliciously crunchy, twice-baked gourmet sodabread crackers with sunflower seeds, pumpkin seeds and linseeds and cracked black pepper.
Paxton & Whitfield Shropshire Blue Nibbles 85g: Shropshire Blue and Sweet Onion – Paxton's take on a classic flavour combination! A perfect balance of sweet from the onion matched to the light, savoury taste of this delicious blue cheese.
Paxton & Whitfield Apricot & Cranberry Chutney 190g: A flavourful sweet and fruity chutney, with warming notes of cinnamon and Christmas. The perfect condiment for the festive period.
Paxton & Whitfield Caramelised Onion Chutney 227g: A deliciously sweet and rich onion chutney cooked slowly with unrefined sugar, white wine and olive oil. A truly exceptional example of one of England's most famous cheeses, with a herby tang and rich creaminess.